WELCOME TO BRICKLANDIA
The wide, brick-filled world of Bricklandia is yours to explore as you see fit, whether that's speeding on paved streets, venturing off-road, or cruising on the open waters. Within Bricklandia, you'll find distinct regions with their own unique biomes, colorful characters, and charismatic rivals who are always up for a race. Here are the regions that drivers will encounter on their journey!
TURBO ACRES
This is where your journey to earning the Sky Trophy begins, with veteran racer Clutch Racington taking you under his wing to learn the ins and outs of driving. Get acclimated to your vehicle's handling and try out its multiple forms around Turbo Acres, all while taking in the lush scenery surrounding the gigantic, trophy-shaped tower that Clutch calls home. With Clutch as your mentor and his plucky robot sidekick S.T.U.D. helping guide you on your journey, you'll be well on your way to becoming Bricklandia's greatest driver!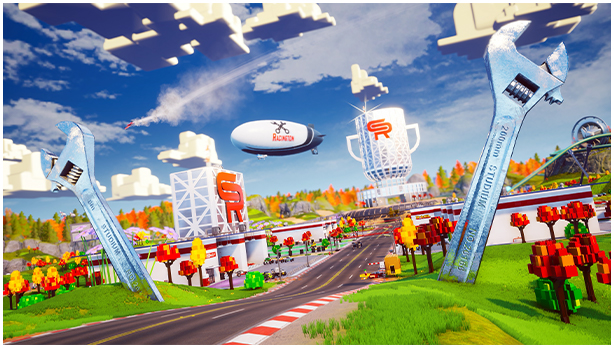 BIG BUTTE COUNTY
Your adventure will really start to heat up when you're speeding through the desert canyons of Big Butte County, where you'll never be short on gas. Push the pedal to the plastic on the open road of Big Butte Speedway, marvel at the prehistoric brick sculptures of Big Dino Park, mingle with the residents of the bustling Big Butte Town, and cruise past giant mesas under the open sky. Keep a lookout for any extraterrestrial visitors enjoying the sights, and don't worry about any cactuses you crash through during your drives—they'll grow back!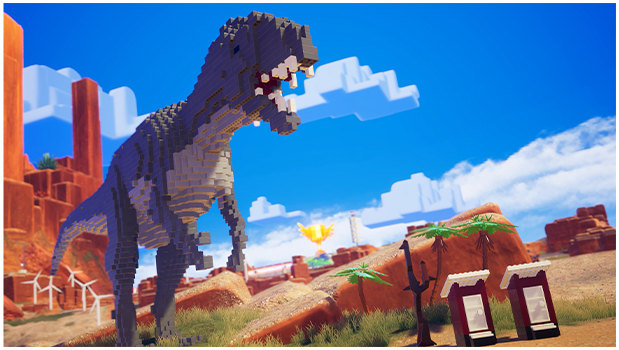 PROSPECTO VALLEY
There's gold in those hills! Huge chunks of precious metal are just one of the many treasures you'll find in Prospecto Valley, a serene sprawl of natural beauty with lakes, beaches, and rolling hills aplenty. If you're looking to cool off, make a splash across the Valley's myriad waterways, sailing past local boaters at blazing speeds. When you're not taking in the majestic sights or making pals with the friendly folks of the local mining town, why not strike up a conversation with a horse? You'd be amazed at all the things they have to neigh… er, say!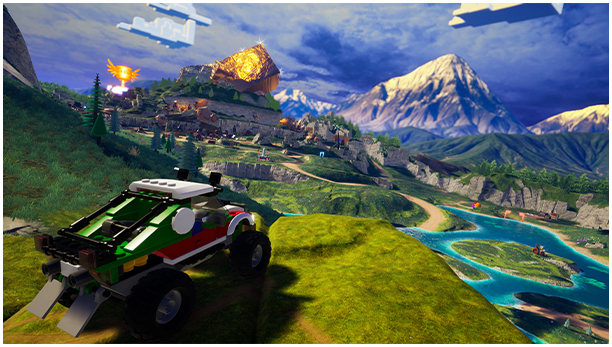 HAUNTSBOROUGH
Say goodbye to sunny skies when you hit the road in Hauntsborough, because it's always the dead of night in this spooky-looking region. With so many skeletons, zombies, and monsters roaming around, you'd think it was Halloween all the time—but there's nothing to fear, as Hauntsborough's denizens are quite welcoming. Be sure to swing by the local tourist attractions, including decrepit castles, huge pumpkin carvings, eternally boiling witch's brews, and villages nestled among giant, luminescent fungi. Just watch out for any car-sized spiders that wander into the road, lest they sink their fangs into your sweet ride.