AWESOME DRIVING TECHNIQUES
To maximize your mileage in LEGO® 2K Drive, you'll need to get a solid handle on everything your awesome transforming vehicles are capable of. By default, your vehicles will automatically transform between Street, Off-Road, and Water forms based on terrain—but expert drivers looking to push themselves can opt for manual transformations for an extra layer of challenge. Regardless of whether you use automatic or manual transformations, the following techniques are essential components of skillful driving.
BOOSTING
Once you've come to grips with the basics of steering, hitting gas to go, and using the brakes to slow down or go in reverse, learning the art of Boosting is the surest way to improve your driving skills. By holding down the Boost button, giant turbines will pop out of your ride and launch you forward for a big burst of speed, perfect for pulling ahead on straightaways or recovering from a sketchy turn. You'll regain your Boost over time, but you can quickly generate more Boost by crashing into destructible objects and pulling off impressive Drifts. At higher License Class levels, you'll have an increased Boost meter to work with, so go wild!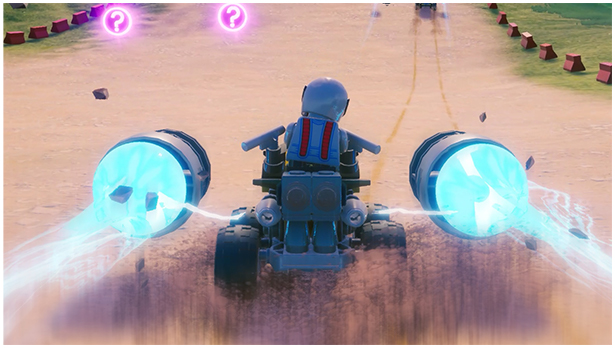 JUMP
Vehicles in Bricklandia all come equipped with a handy set of boosters that let you Jump for some air time! Whether you're on the ground, cruising on water, or already soaring midway through the air, you can Jump with a single button press to fling your vehicle skyward. Once you're comfortable with the fantastic ability to Jump at will, you'll be ready to access time-saving shortcuts, explore more of the expansive landscapes, and escape danger whenever a missile is heading your way or rival racers are about to crash into you.
QUICK TURN
Heading for a tight corner or need to spin your vehicle around in a hurry? It's the perfect time to hold down the Quickturn button for supremely sharp cornering. You can even activate a Quickturn while Drifting for even finer control over your angles. Quickturns aren't just useful for racing, either—they come in handy during some of Bricklandia's many sidequests.
BRICKBASH
The advanced Brickbash technique is something you'll only encounter later on in the Story mode or at higher License Class races. When you've got a lot of Boost meter saved up, you can enter the Brickbash state after maintaining a continuous boost, letting you reach even higher speeds as you push any opposing racers aside!
DRIFTING
Drifting and Boosting go hand-in-hand as the cornerstones of top-tier driving. To initiate a Drift, simply hold down the gas and the brake at the same time while steering; you'll know you're Drifting when your vehicle leaves a bright pink trail in its wake. Note that you can continue Boosting even while you're in a Drift. As you Drift, you'll build up a smaller pink meter just above the big blue Boost meter at the bottom of the screen. When your Drift ends, all the Drift energy you've built up will be converted into Boost. Alternating between Drifting and Boosting is the key to getting the fastest times, and you'll only get better at these essential maneuvers with practice.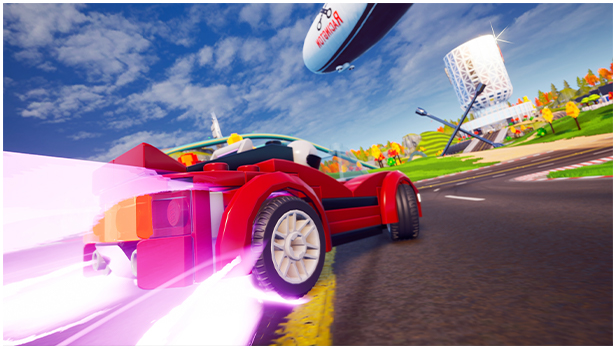 QUICKBASH
Reaching the highest License Class unlocks the Quickbash ability. Fill your Boost meter to the max to earn a Quickbash token, then double tap the Boost button at any time to spend that token and engage Quickbash mode. Quickbash will deplete your Boost meter and send you rocketing forward at incredible speeds. During Quickbash, you'll plow through vehicles in your path like a giant wrecking ball and be immune to all hazards!