THE GARAGE
The Garage is where you'll build and modify vehicles in LEGO® 2K Drive. Sunny Monkey, Bricklandia's most helpful simian mechanic, is here to assist you any time, and you can spend as long as you like tinkering with your creations. You can access the Garage from the main menu, and in Story mode, you'll find Garages all over Bricklandia's expansive map which double as fast travel points!
BUILDING A NEW VEHICLE
You have the power to make the vehicles of your dreams in the Garage, customizing every brick from nose to tail. To help you get started, Sunny has a bevy of optional Tutorials you can peruse that'll get you up to speed on all the tools you have at your disposal.
Once you feel ready to start putting pieces together, hop over to the Body Shop to start building. Right from the get-go, you'll have hundreds of bricks to build with, sorted by type and category via the easy-access Brick Drawer menu. To ensure that you don't take up the whole road, there's a build limit to how many bricks and added bits you can have on your ride—but rest assured that there's a huge range of freedom to what you can create.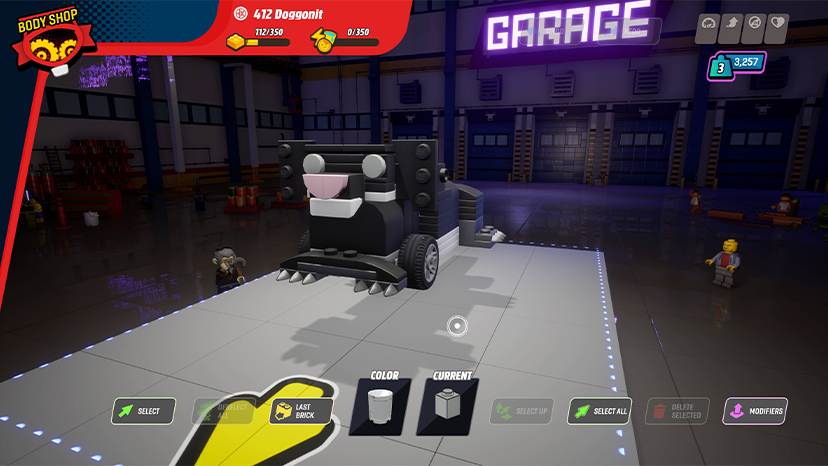 All vehicles in LEGO 2K Drive have their own stats, including Top Speed, Acceleration, Handling, Health, Melee Power, and Weight. The more bricks you have in your vehicle, the heavier it gets, affecting your Weight class. Each of the six Weight classes from Super Light to Massive have advantages and weaknesses, so play around and find out what works best for you!
There are tons of customization options for your builds, from individual brick shapes and paint jobs to finer details like the sound of your horn and engine. Swap out the wheels, switch up the placement of the driver's seat, add a personal touch to your vehicle with a sticker or a fun piece of flair, and more—everything you need to build your new favorite vehicle is at your fingertips!
MODIFYING YOUR COLLECTION
Your full suite of owned and created vehicles is on display in the Garage's Showroom, where you can bask in the glory of your ever-expanding collection. From the Showroom, you can Modify any of the cars you own by taking them into the Body Shop for a customization tune-up.
Don't worry about making any changes you can't undo: the Modify option creates an exact copy of the chosen car for tinkering, so you can add or remove bricks to your heart's content without permanently altering the original vehicle. You can also duplicate vehicles in your collection any time you like, letting you experiment with different takes on the same base model.
Selecting the Instructions options for a vehicle in your collection will take you to a step-by-step guide for that vehicle, letting you assemble each element piece by piece. You can unwind by building up each layer of the vehicle like a relaxing puzzle, and perhaps get some inspiration for your next creation.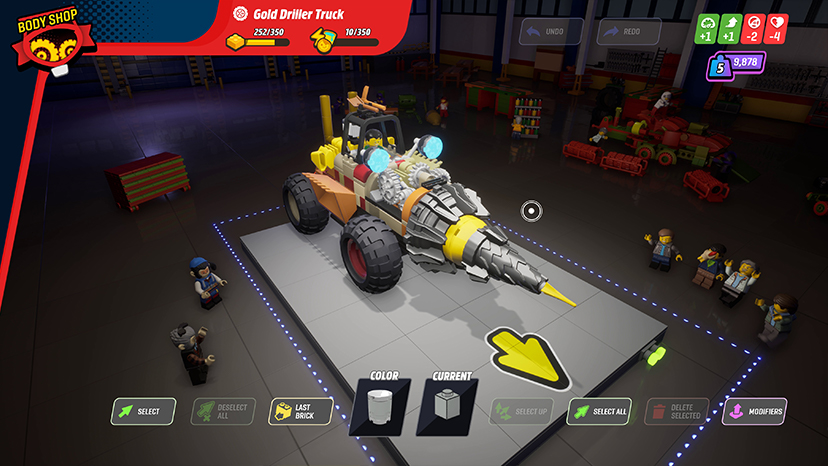 DRIVING YOUR CREATIONS
Now that you've finished building your new masterpiece, it's time to show Bricklandia what your vehicle can do! Go for a test drive to see how it looks in motion before you take it for a spin, then equip it to your Loadout for use in other modes.